I made spicy rice cake stew tonight. We tried rice cake bedore and it was yummy. So I found another recipe for ddeokbokki and tweaked it.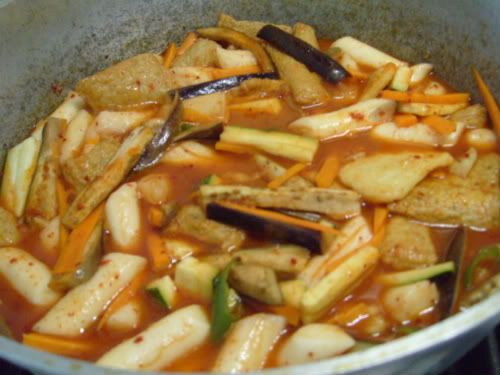 Ingredients:
1 can low sodium chicken broth
1 can water
4 tablespoon kochujang
2 tablespoon red pepper powder
2 tablespoon honey
1 teaspoon sesame oil
2 large cloves garlic, minced
1 carrot, julienned
1 medium size zucchini, julienned
1 medium size eggplant, julienned
1 serrano pepper, sliced
scallions, as needed/preferred
fish cakes, as much or as little as you would like
1 13oz bag of rice cakes
4 eggs
1 brick instant noodle
Salt as needed
Mix chicken broth, water, kochujang, red pepper powder, serrano pepper, honey, sesame oil and garlic in a pot. Heat the mixture. Put in rice cakes and fish cakes. Stir. Heat to boiling and lowe the heat to medium. Put in the vegetables, stirs. Cover and let it cook until the rice cakes are tender. Bring it up to slight boil and put in eggs. When the eggs are done, put in the instant noodle and cook until the noodle is ready. Serve.